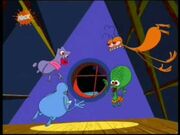 Etno turns the house into a spaceship and landed on the moon. Yet there' an astronaut that's devisating their mission.
Characters
Edit
When the pilots were talking, there question and anwser relates to The Wizard of Oz.
Getting Crap Past The Radar: During the Transformation Chair scene, one of the forms that the aliens take were liquor bottles.