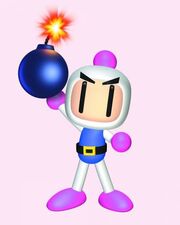 White Bomber (or Cheerful White Bomber or Bomberman) is the main protagonist in the Bomberman game series and Anime series.
He has been the protagonist in the anime series Bomberman B-Daman Bakugaiden, Bomberman B-Daman Bakugaiden Victory and Bomberman Jetters.
Bomberman is also Hudson's Soft's iconic figure (similar way
Rayman
is Ubi Soft's iconic figure). He has been a many arcade multiplayer games such as Bomberman Blitz, Bomerman Blast and Bomberman Live as well as adventure titles such as Bomberman 64, Bomberman Hero, Bomberman: The Second Attack, Bomberman Generation and Bomberman Jetters (Video Game). Bomberman also as the Bomberman Land series as well as a kart-racer.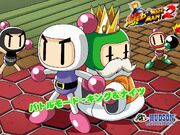 Crew Mates
Edit
Recurring Rivals
Edit
Merchendice
Edit
See List of Bomberman merchendice
Bomberman had appered in a cross-over game called "Dream Mix TV World Fighters".
Wario had appered in the same game as Bomberman.
Bomberman is suppost to have a game out of 3DS.