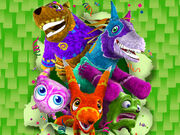 Viva Pinata is a CGI series based on Rare Ltd.'s video game series.
Pinatas have misadventures in an island full of other pinatas.
Characters
Edit
Other Characters
Edit
See List of Viva Pinata episodes.
Merchendice
Edit
Well other than the orininal game, Viva Pinata had a party game for Xbox 360 and a game for Nintendo DS
Burger King promoted Viva Pinata with promotional toys.
DVDs from Shout Factory.
Viva Pinata had been reference in Banjo-Kazooie: Nuts and Bolts another game from Rare.