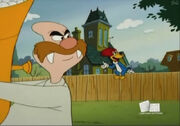 Woody pratices to get a hole-in-one for a free membership at a country club and Wally is getting in the way of that.
Characters
Edit
Woody Woodpecker (Billy West)
Wally Walrus (antagonist) (also voiced by Billy West)
Getting Crap Past The Radar
Edit
This episode contain a reference to ganster films.
Woody: Looks like you uhh, got some of my balls
When Woody said "it's Tee Time" the tone of his voice sounded drunk.
Woody spoke in a german accent in this episode