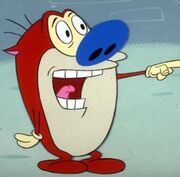 Stimpson J. Cat (Stimpy) is one of the main protagonist of The Ren & Stimpy Show. He's a fat, dim-witted, yet good-nature cat who Ren referes to him as an idot. Stmpy has been playable in Nicktoons Racing, Attack of The Toybots and Nicktoons MLB.
Oggy resebles him, but reversal color sceme.
Stimpy was removed from the arcade version of Nicktoons Racing.