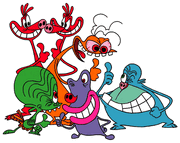 Space Goofs is a french animated program about 4 aliens (5 in the first season) who crash-landed in Earth and hide in an old house and hope to go back to the home in space.
Characters
Edit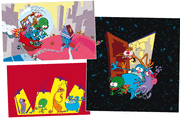 See List of Space Goofs episodes.
Merchendice
Edit
Despite only airing one season in the US there was promotional toys for the series in Taco Bell, Long John Silvers, Hardees and even Cost Cutters.
A video game titled "Stupid Invaders" is based on Space Goofs.