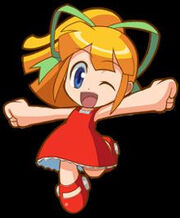 Roll is one of many supporting protagonist in the Mega Man series. Her apperance, blonde witha green ribbion and wears a red dress and red shoes. She has another apperance with an updated dress and red boots. She a robot.
Roll has appereed in episode 2 and 3 of the short lived anime series. She had been in a mechine created by Dr. Wily in the second episode. In episode 3, she tries on a kimono.
Roll returns in this series (a version of her called Roll.EXE). Only she had some kind of mech-suit instead of her red dress and had a more older
apperance than the oringinal 10-year old-like apperance. The back of her head has something resembling her pony-tail (green ribbion and all).
Other apperance
Edit
The Mega Man game series.
Mega Man: The animated series. (design as a teenager)
Vs. Capcom series. (Updated version is in one of the games)
Mega Man comic book series, by Archie Comics.
Roll's red dress bares alot of resemblance to Amy Rose's from Sonic The Hedgehog.
Her dress color pattern were once compared to Doug's hat pattern from Regular Show.
For some reason, She was made into a teenager in the animated series.
She has alot of altinate costume changes in the PSP game Mega Man: Powered Up.
The characters Ciel from Mega Man Zero and Yai Ayanokoji from NT Warrior seems to bare resemblance to Roll.