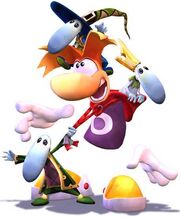 Rayman is the main protagonist in the Rayman game series as well as Rayman: The Animated Series. Most of his apperance contains a floating head, floating hands and floating feet as well as a floating body. he is the iconic figure of Ubi Soft.
Rayman: the animated series
Edit
Rayman helps his friends Betina, Cookie, Flips and Lac-Mac excape the clutches of Inspector "Archie" Grub.
The Teensies (as seen in the picture here).
The Kanaren and The Kanaren King
Steve Perkins (First Game)
David Gasman (Most of the games)
Rayman has a cameo in Ed's game Tonic Trouble.
Rayman also appered in The Raving Rabbids series.