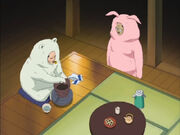 Yamaguchi fails to see the humor in Pootan's tv show. So he much watch the show until he find's out what makes it popular.
Characters
Edit
Getting Crap Past The Radar: Pootan's Friend's response to Pootan's jerky-ness in the first two chats in the episode.
Yamaguchi's reponse to Pootan (tv show) is what Tommypezmaster thinks how online users (especaily Tv.Com members) should act about Tak and The Power of Juju (tv show).
Kamiyama is a fan of Pootan.
Reply to Yamaguchi: Tommypezmaster also wants online users to feel the same way about Sidekick and Scaredy Squirrel.