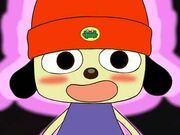 PaRappa Rappa is the main protagonist in both the PaRappa The Rappa video game series (exculing Unjammer Lammy) and the anime series He has done anything to win the heart of the lovley Sunny Funny. He's good friends are Chop Chop Master Onion, Matt Major, P.J. Berri (sort-of), Katy Kat and Paula Fox. What ever it takes, He gots to believe.
PaRappa was spoofed in Robot Chicken three time and was once spoofed in Mad.
Has been confirm to be a playable character in PlayStation All-Stars: Battle Royale.