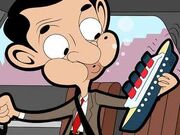 Mr. Bean: The Animated Series is based on
Rowan Aktinson
's known character and live-action comedy,
Mr. Bean
. This show contains various Bean plots (but animated). Not to mention Bean's car (
Mini Cooper
) is also put to animated form.
Characters
Edit
Other Characters
Edit
Merchendice
Edit
A real Teddy plush (based on the show's design) was made.
There's a 4 Pez Dispenser set of the series (includes Mr. Bean, Irrma Gobb, Teddy (sitting on a Suitcase), and the mini cooper).

Promotional toys of the animated series had made for a KFC Malaysia exculsive.
There a mini cooper toy that comes with a Bean figure base of the show's design.
The animated Mr. Bean was made into a plush.
The series has video games for PC PS2, Wii and DS.
The Show also has DVDs.