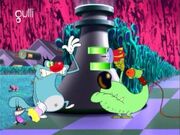 A prank causes Oggy and Joey to be sent to a planet were Yellow Aliens turn into Garden Gnomes. Can Oggy and Joey pull it off?
Characters
Edit
The roaches did not play the main antagonist in this episode.
Getting Crap Past The Radar: The Cockroaches enters a Gnome where a door is located in the crotch area.