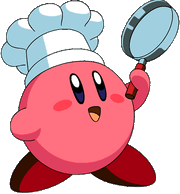 Kirby is the main protagonist in the Kirby game series and the anime Kirby: Right Back at Ya!. He small and pink. He can suck up (almost) any enime and copy there powers.
Copy Abbilities
Edit
Cook
Fire
Ice
Bomb
Copy
Hammer
Shock
Fighter
Suplex
Yo-yo
Ninja
Cupid
Bubble
Microphone
Crash
Wing
Tornado
Merchendice
Edit
See List of Kirby merchendice.
Kirby appered as a playable in the Super Smash Brothers series.