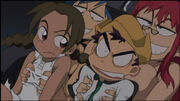 The duo ending up in a movie themed shopping arcade full of parodies.
Characters
Edit
Getting Crap Past The Radar
Edit
Sasshi, Arumi, Muna-Muna, Sis and Ms. Aki were seen naked in this episode.
Sasshi had two groin attacks in this episode.
The F work was used more than once.
The car Sasshi rode on resembles some inapropreate parts.
Bonny and Clyde, Thelma and Louise, Cheech and Chong and Tom and Jerry were mentioned in this episode.
The mole from the vortex resebles the one from Gurran Laggan.