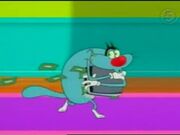 Oggy discovers that Jack has a breifcase full of money and suddenly goes paronoid. Yet Dee Dee, Marky and Joey still cause trouble for him doing so.
Characters
Edit
Oggy
Dee Dee, Marky and Joey (antagonist)
Jack
Cow Bank (cameo)
Oggy is seen in CGI in this episode.
Getting Crap Past The Radar: Jack only had the breifcase full of money to give to a mafia member.