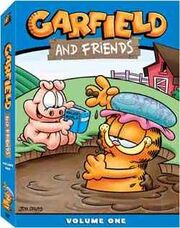 Garfield and Friends was base upon Jim Davis's iconic overweight feline. Garfield continues to have adventures around him. Each episode (excluding the TV specials) has a bonus Orson's Farm segment after the first Garfield segment.
The show oringinally air on CBS. It later had a network hop to Nickelodeon then Toon Disney than Boomerang.
Garfield Characters
Edit
Orson's Farm Characters
Edit
TV Specials
Edit
Note: Some specials were made before the series.
See List of Garfield & Friends episodes.
Merchendice
Edit
The series (along with the specials) are in DVDs
Garfield reperented the show and the specials in "Cartoon All-Stars To The Recue" (despite he only had cameos).
In Cartoon Network's Hi Hi Puffy Ami Yumi, Yumi's Shirt is very similar to Wade's intertube.
IMDB listed most of the references to classic Garfield to this series in the movie connections.
Garfield has some Orson's Farm cameos while, Orson and his friends had cameos in the Garfield segments