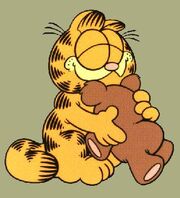 Garfield is animated cat created by Jim Davis. He's fat and loves to eat. He's the main protagonist in Garfield & Friends, the novies base on himself and The Garfield Show as well as the titled character in Garfield comic strips.
Arlean
Vito (debatable)
Prince
Garfield in Pop Culture
Edit
 Tiny Toon Adventures had a parody of Garfield called Garfunkle.
The Simpsons had a character mentioning Garfield in a Sideshow Bob episode. In addition, Milhouse has a

binder of Garfield in a later episode. In the episode were Kristen Wiig guest stars as a F.B.I. agent, Homer mentions Garfield
Futurama in one episode had his owner Jon as a discarded parade balloon. In the yeti episode, Fry had "Garfield Sydrum".
The A.D. Vision dubed anime Super Milk-Chan had a show called "Pastel Mr. Shin" that is mainly a parody to "Crayon Shin-Chan". It was mention to be a parody to "Garfield and Friends" on Tv Tome.
A Robot Chicken skit had Garfield in Cat Court.
MAD parodied Garfield more than once.
In the Bob's Burgers episode "Bad Tina", One of the exotic fan fics that Tina wrote about includes Garfield's name.
In the It's Always Sunny in Philadelphia episode The Gang Gets Held Hostage, Dee wore a Garfield T-Shirt.
In the film Zombieland, Bill Murray mentions that his regret was Garfield.
Merchendice
Edit
see List of Garfield merchendice.
Roles outside Nick Plus
Edit
Cartoon All-Stars To The Recue (Cameo)
Garfield: The Movie
Garfield: Tale of Two Kitties
Garfield Gets Real
Garfield's Fun Fest
Garfield's Pet Force
It's Always Sunny in Philadelphia (pic above)
Voiced By
Edit