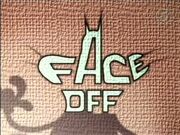 Face is an episode in season 2 of Oggy and The Cockroaches. Oggy's face gets wrecked and Jack is just the guy to take him to the Hosipal. The Roaches will anything to make Oggy's face anything but perfect.
Characters
Edit
One Secen shows Oggy having a live-action human face.
The Meaty Doctor seems to be similar to Wall from Hi Hi Puffy Ami Yumi.
There fitting music when the nurses chase the live-action human faced Oggy.