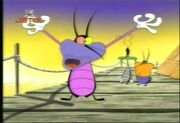 Dee Dee (Orange), Marky (Green) and Joey (Purple) are the titled trio from Oggy and The Cockroaches The seem to enjoy giving Oggy a hard time.
Dee Dee is the orange headed one that seems to enjoy eating at lot.
Marky is the green headed one who seems to be a real charmer. He even made the Beautiful Girl fall for him.
Joey is the purple headed one and mostly likey the brains of the trio.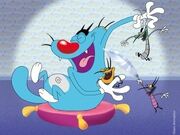 Their names are in refernce to the punk group, The Ramones.