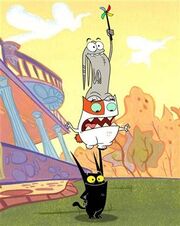 Catscratch is animated series created by Doug Tenapel, who also brought Earthworm Jim and Project GeeKeR. The show is about the misadventures of 3 cats who inharited a fortune after there owner past away.
The 3 cats are based and inspired on 3 main characters from TenNapel's comic book/Graphic Novel Gear. The show was removed from Nicktoons Network's schedule alongside Mr. Meaty, The X's and Ricky Sprocket: Showbiz Boy.
Characters
Edit
Recurring Characters
Edit
Other Characters
Edit
Mechendice
Edit
In 2007, McDonalds promoted Catscratch in their Happy Meals with Toys of the main trio.
Catscratch was also featured in Tiger's VideoNow line with a PVD (Personal Video Disc) with Mr. Pickles & Tail of the Tail.
The show had appeared in the Nick Picks DVD series (note: it's a series where they put shows from different Nicktoons and put them into numbered DVD's).
Gear was possibly named after the main protagonist in the Doug Tenapel comic book Gear.