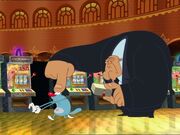 Casino is a season 3 episode of Oggy and The Cockroaches
Jack insist that Oggy should spend his check at the casno.
Characters
Edit
The sound effects in the slot machine sounds like the ones in Super Milk Chan.
We see that one of Oggy's paws is ungloved in this episode.