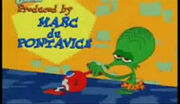 Candy Caramella is the deuteragonist in Space Goofs. He's the team's neat freak. He's green and wears a poka-dotted apron. He sometime has a thing for Ice Skating on TV.
Voice Actor
Edit
It's easy to mistake Candy for a girl because of the apron he wears.
Goofs: When the goofs ran near the end of season one's opening. Candy's apron was suddenly gone.
In the video game "Stupid Invaders", he stated that Proffesor Helmet is the greatest sex-change specailist in the univers.