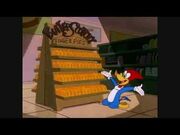 Woody
has a dream about Butty-Scotchy Finger Pies, causing to buy some after his supplie was out. When stores are all closed, he has no other choice but to use the mechine.
Characters
Edit
Wally did not play the main antagonist in this episode.
Lash and Nash gone crazy if someone forgot or run out of there money if there going to pay for there items.